12.3 inch Electronic rear view mirror
Do you find it difficult to understand the side-view mirror's view? In some situations, side-view mirrors can be very challenging to view. For instance, the passenger's side becomes practically impossible to view from the driver's perspective. Or sometimes, the surrounding vehicles come in your car's blind zone. It makes it impossible to see vehicles in your blind zones.
The main reason for that is the awkward build of these mirrors. They are designed to be positioned far away from the driver's eyes. So, the best solution to this problem is an electronic rear view mirror. Similarly, extreme weather conditions can also make the mirror blurry or unclear.
An electronic rear view mirror provides real-time footage of your vehicle's surroundings. You can install it in your personal car or commercial heavy vehicle. Since it is installed inside the vehicle on the pillars, you can always see what's happening on your sides. Also known as an E-side mirror or digital rear view mirror, this technology prevents accidents and makes you a more skillful driver.
This mirror system was first introduced by Nissan in 2014. Ever since then, it has become a widely used driving assistive system. Today, it is used by professional and personal drivers alike.
An electronic rear view mirror is full of powerful and smart features. Its primary purpose is to avoid collisions and road accidents. Our digital rear view mirror camera systems also add BSD sensors for maximum protection.
It records high-quality videos of the proposed areas of your vehicle. You can install it to monitor your vehicle's front, rear, or side area truck.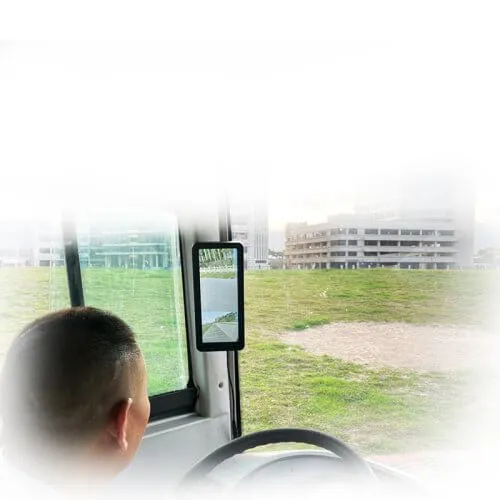 Our system comes with a high-definition display screen. It shows the camera output footage in 720p or 1080p video quality. In short, you can always catch the crystal-clear footage of the road.
We have several e-side mirror systems. They are categorized based on their sizes and channels. Although they may differ in some functions, their primary features are the same. Let's take a look at them.
Features Of Electronic Rear View Mirror
The following list includes some of the most powerful features of the electronic rear view mirror:
The mirror has an auto-heating system to prevent the image from getting blurred. It activates automatically as soon as the temperature hits below 5°C.
Water droplets can not stay on the screen due to its hydrophilic coating, offering HD image quality even in rain and snow.
Multiple display modes are available, depending on the number of cameras and screen capability.
The digital rear view mirror has a reduced glare in display to avoid eye strain.
With low-light technology, the system automatically adjusts its brightness depending on the environment.
The electronic rear view mirror system has noise reduction in the output footage.
It prevents dazzled vision with its auto-dimming technology to avoid unclear view due to flashing light beams.
The camera captures authentic colors instead of higher brightness, contrast, or saturation.
Its cameras come with highly stable mount brackets. They offer wind resistance and work in extreme weather conditions, like rainstorms.
Working of Electronic Rear View Mirror
The left and right cameras are positioned carefully on the vehicle. Their vantage point gives them the ideal view of the surrounding. These cameras are connected to the display screens via cables.
Generally, these systems do not have a control box. That means you do not have to worry about working with extensions. The cameras provide a direct feed to the electronic rear view mirror. You can change the settings or adjust the options using a remote control.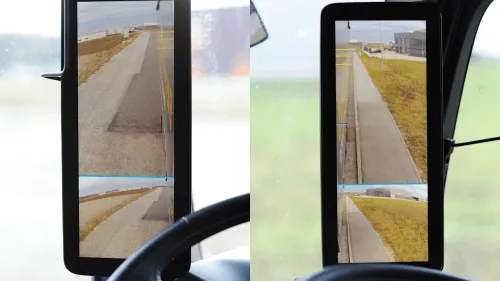 The electronic rear view mirror system comes with the following specifications and accessories.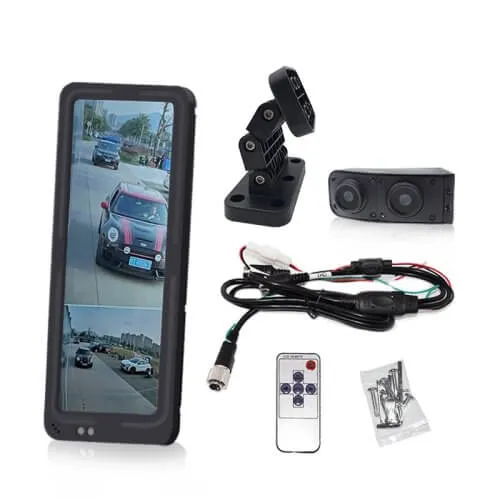 Accessories in the Electronic Rear View Mirror Package
The electronic rear view mirror comes with some essential equipment to work seamlessly. Here they are:
| | |
| --- | --- |
| Electronic Rear View Mirror | Quantity |
| Left Camera | 1 |
| Right Camera | 1 |
| Monitor/Displayer | 1 |
| Camera Monitoring Cables | 2 |
| Power Input Cables | 2 |
| Remote Control | 1 |
Technical Specifications
The following specifications indicate how an electronic rear view mirror works.
| | |
| --- | --- |
| Resolution | 1920 * 3 (RGB) * 720 Pixel |
| Screen Size | 12.3-inch |
| Aspect Ratio | 8:3 |
| Display Type | IPS |
| Brightness | 750cd/m2 |
| Contrast | 100:1 |
| Power Consumption | Max 25W |
| Material | Metal |
| Video Input Channel | 2 Ch |
| Video Quality | 720p and 1080p |
| Working temperature | -40°C ~ 75°C |
| Storage Temperature | -40°C ~ 75°C |
| Operation Method | Remote Control |
An electronic rear view mirror has a wide range of functions. Our systems also include some intelligent functions to assist drivers with everyday tasks. They can help make driving less stressful and keep you protected.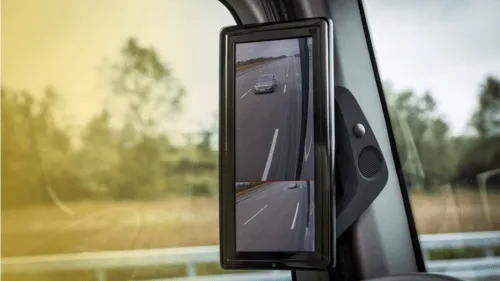 Let's go through the main functions one by one to get a clearer picture:
The basic task of this auto dimming rear view mirror is to record videos. And it is safe to say that its cameras excel at this activity. It starts recording videos as the vehicle becomes active. This e-side mirror system captures high-quality video with a crisp quality.
2. Storage Capacity
These systems cannot just record videos but also store them. Our electronic mirror systems come with pre-installed SD cards of up to 256 GB storage. The best part is that you can manage the memory by deleting unnecessary videos. Also, you can install secondary SD cards if the primary one runs out.
3. High-Quality Display
You can always catch your vehicle's surroundings on the HD monitor. Our electronic rear view mirror comes with a compatible displayer. It can support up to 1080p video quality with high resolution. Additionally, this system gives you accurate colors, adjustable brightness, and different video modes.
4. Night Vision
Are you concerned that you will not get a clear display during the night? Well, that's not the case with our mirror system. It comes with a night vision that automatically adjusts depending on the lighting. That means you will continue getting HD image quality even in darkness.
5. WDR Technology
The system is equipped with WDR technology. It allows you to get crystal-clear image and balanced images. You do not have to worry about bright lights as the system automatically dims them. This way, you can always look in the mirror and get an accurate display.
6. Split Screen Display
Split screen video mode is best to make the most out of cameras. It presents the display from both sources in a single mirror. For instance, you will get the footage from the left and right cameras at the top and bottom, respectively.
7. Crisp Audio
Audio can also play an integral role in monitoring your surrounding. But the noise can also be irritating and overwhelming for the driver. Luckily, our electronic mirror system does not capture noise. It offers high-quality audio quality without distortions to keep the driver calm.
If you position the cameras well enough, you can capture your vehicle's two most important blind spots. These are the driver's side and passenger's side. This system can also work as your blind spot monitor to prevent fatal accidents. It can provide real-time video of the areas invisible to an ordinary side-view mirror.
9. Polarized Screens
Our systems are not affected by bright sunlight or flashing beams. Due to their polarized technology, they can cut glare. As a result, you only see the actual view of the road. It also keeps your eyes safe from flashing lights that can cause strain.
10. Weather Resistance
The system offers complete weather resistance due to its IP69 waterproof grade. That means it will work efficiently in rainstorms, fog, and snow without errors. Also, you can clean the cameras without worrying about damaging them.
11. Multiple Screen Orientations
The camera system may be similar in all systems. However, the screen can be different in some electronic rear view mirrors. Some systems have horizontal screens, while others have vertical. At the same time, some systems allow you to adjust the screen according to your preference.
12. Backup Camera
In case a camera goes off, the system automatically shifts to the backup camera. It helps to record continuously without disruptions. This way, your memory unit can not miss any footage.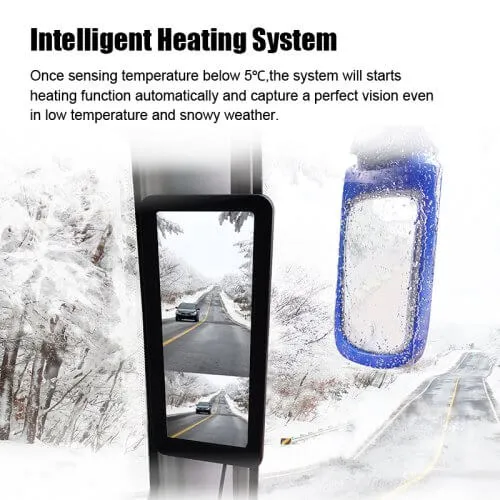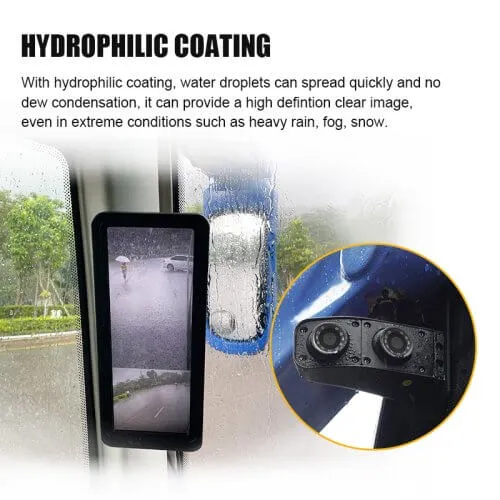 Advantages
An electronic rear view mirror has tons of benefits. But you can get even more advantages if you order this system from our company. Why is that? Let's take a look:
We offer professional installation guide services, along with shipping, for all our assistive driving systems.
Our company engineers safety driving technologies tailored for specific needs and vehicles.
Our electronic rear view mirror can work with commercial trucks, cars, buses, coaches, and emergency vehicles (ambulances). Moreover, fleet managers also use this system to increase safety and efficiency.
You can always connect with us easily for your questions and queries. We offer assistance via our professional and experienced individuals.
Our driving assistance systems are available at affordable factory sales. We do not work as an intermediary, offering technologies at high prices to keep a margin.
All of our systems are tested in challenging scenarios for their performance. Due to this, we have maintained a failure rate below 2%. That means you will get accurate performance with our electronic mirror system.
Our auto dimming rear view mirror comes with an interactive and engaging display. You can change its settings according to your preferences with easy remote controls.
We never compromise on the product's durability. So, you can rest assured that our mirror system will last longer and continue to offer ideal performance.
All of our driving assistance systems have an in-depth product manual. It includes all the information regarding the system's installation, maintenance, and usage. This way, even an inexperienced driver can learn quickly.
Last but not least, we ensure no delay in your order. Our production capacity is up to 1,000 pieces in a single day. Thus, you will receive your order within the specified time without any inconvenience.
Our company offers customized packages for businesses. You can order the mirror system in the required quantity with your personalized identity.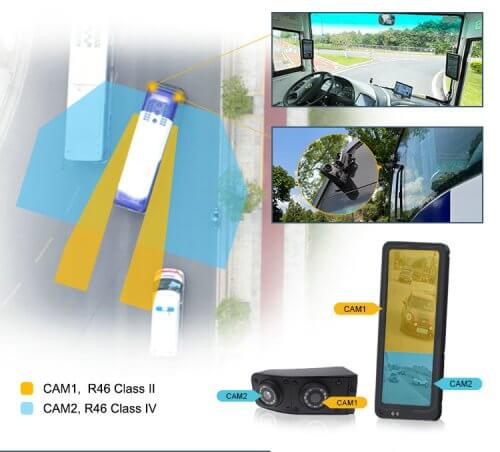 Are you inexperienced in installing assistance systems in your vehicle? Well, there's no need to worry. The digital rear view mirror installation is pretty straightforward. Here's how it works:
Position the cameras on the vehicle's left and right above its side windows or quarter glass.
Install them well using the mounting brackets.
Now, mount the screens in your vehicle on the pillar.
Connect the monitor cable to the cameras.
Next, connect the monitor to the power source using input cables.
Lastly, activate your vehicle to see if the system works.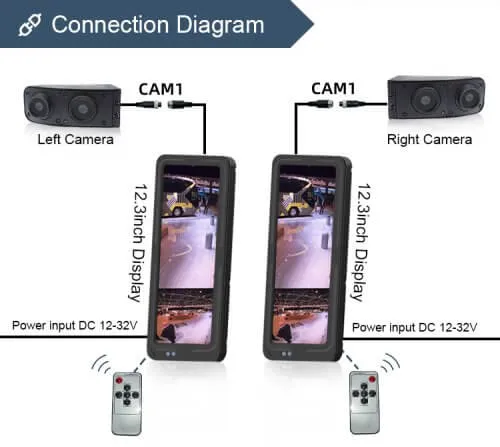 When everything is in place, check the remote control. Start the system and try its different functions. It will help you ensure all the features are working smoothly.
An electronic rear view mirror is an all-in-one solution for your driving needs. It can eliminate the need for other technology and devices. That's because it records and stores videos, monitors blind spots, works well at night, and offers an optimal view of your surroundings.
The best part is that you can use multiple cameras and screens. Although most drivers use a single displayer, you can opt for two. It will help you get the single camera footage in one place instead of splitting. This system also comes in handy when reversing or parking your vehicle. It has options, like mirroring image, to get the perfect view.
This mirror system can be helpful for both personal and professional drivers. That is why it has seen a massive rise in popularity, especially in fleet management. The system is designed to reduce fuel consumption, lower maintenance costs, improve driver's safety and enhance visibility.
We highly recommend you buy this electronic rear view mirror system from a reliable company. Luckily, you do not have to go through the flooded market. We are here to offer you this system at an affordable price. Furthermore, we cover everything from shipping and technical assistance to installation. You can get a free price quote today for the desired system from our team of professionals. So, what are you waiting for? Order now and make your vehicle 10 times safer!
If you have any questions, welcome to contact us!